I'm so lame! lol
Now that I have stopped jumping up and down screaming in delight... I called Jennifer (the principal) back and she said that I will be teaching 2nd grade!!!!! I'm so excited because that is the most awesome grade to teach ever. Cause the kids can read and write for the most part, and they still love you and want to give you hugs. :) I can't believe that it only took three weeks to find a job. I thought I wouldn't get anything until next school year, because it's hard coming in at the middle of the year, but I think I needed some good karma in my direction.
Current Mood:

bouncy



I'M THE NEW TEACHER AT YULEE PRIMARY ELEMENTARY!!!!!!!!



OMG!!!! I'm freaking out!!!!
I'm shaking typing this....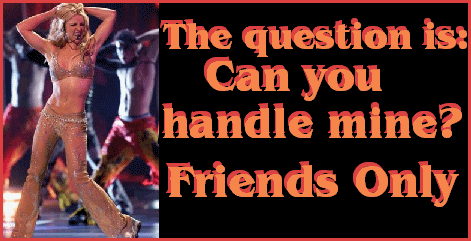 made by
______lj_stuff
EDIT: Not doing a friends cut or anything, just due to an ethics code for teaching I cant keep this public with my dirty mouth and crazy antics! :) Have a nice day!!!
Current Mood:

cranky
have mercy

John Stamos: "[In the mid- '80s] I was in a band. I was playing somewhere in Finland, and there was a girl hanging around who was really drunk and interested in me. I wasn't into her, but my friend was. So the girl came back to my hotel, and I turned the lights down, and we started making out. I said, 'Hold on a second, I've gotta go brush my teeth.' It was dark, I left the room, and I sent in my friend who looked like me. And she thought she was having sex with me, but she was really having sex with my friend."
I guess the big question on my mind... was it Dave Coulier??? I really hope it was. Imagine going to bed with Uncle Jesse and waking up with Uncle Joey.
How rude.
Posted by my blog is poop

I cried:
I asked you to help:
I died from natural causes:
I said I liked you:
I kissed you:
I stole something:
I was hospitalized:
I ran away from home:
I got in a fight and you were there:
I got dumped:
I pissed you off:
I did something that you could never forgive me for:

What Do You Think Of My...
Personality:
Eyes:
Face:
Hair:
Clothes:
Voice:
Humor:
Choice of music:
Mannerisms:
Family:
Body:
Friends:
Decisions:

Would You...
Be my friend:
Tell me the truth no matter what:
Lie to make me feel better:
Spread rumors about me:
Keep a secret if I told you one:
Loan me some cash:
Hold my hand:
Take a bullet for me:
Keep in touch:
Try and solve my problems:
Love me:
Have Sex with me:
Ditch me:
Use me:
Date me:
Rape me:
Beat me up:
What Would You do if...


Love,

Angie
All you motherfuckers are gonna pay, You are the ones who are the ball-lickers. We're gonna fuck your mothers while you watch and cry like little bitches. Once we get to Hollywood and find those Miramax fucks who are making that movie, we're gonna make 'em eat our shit, then shit out our shit, then eat their shit which is made up of our shit that we made 'em eat. Then you're all fucking next.


Well today has been much better than yesterday...

First, Congrats again Jenn... I'm so proud of you... It would be super weird if you got a job at Ridgeview or Middleburg though... lol

Second, half of my group for my project sucks, and they are really pissed off at me... well for starters I have been working on this newspaper for this class, and there was a book talk that i needed to do, but it wouldnt take very long, I did need the book though to do it. Well I get a call at 2, and class starts at 4:30, asking if I would be ready to go today... I was like WTF!?!?!?!? I told her no, and that I still had some stuff to throw together... then Shelly (the only part of my group that hasnt crapped out on me) calls and says, come up to school, I'll do it if you need me to, and we'll work it out... So I go up to school and Shelley and I knock it out... tell the other two we are ready, and then they crapped out and told the professor they didnt want to do it... BLAH... oh well, I just hate group projects for this very reason...


Third... Ok so I think I found a lump again today... and I have really noticed some of the behaviors I started to have when my Thyroid problem started the last time... So I think I'm going to need to set another appointment with the doc... Please say a prayer for me, I dont think I'm ready to go through this again... Not now at least, I need to have my energys focused elsewhere...

Fourth... I'm getting really good vibes that things are going to looking up for me... b/c they cant get any lower... and I'm really trying to hold it all together, so if it doesnt get any worse...


Good Night Everyone...

xoxoxoxo
Angie
Hey Guys!!!
Current Mood:

like Taco Bell's new menu

Current Music:

Trapt- Echo